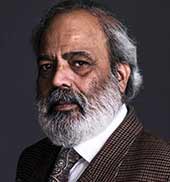 Dr. Anil Kumar Mehta, Global Ayurveda Practitioner

He is the founder of Prakash Deep Institute of Ayurvedic Sciences, he is a renowned Ayurvedic practitioner spreading the light of Ayurveda through many Ayurveda Institutes and health centers spread all over the world. He conducted extensive research in the field of Ayurvedic health care and is constantly updating traditional cures to provide a holistic treatment for modern times.
He is the founder chairman and medical director of EISRA-European Institute of scientific research of Ayurveda. Dr. Mehta pioneered the task of introducing the science of well-being, the Indian medical science – AYURVEDA to Europe.

Maa Gyaan Suveera, Energy healer
The Founder of Ci plus meditation technique, Maa Gyaan Suveera found her calling very early in life. Deeply inspired by Mother's and Sri Aurobindo's teachings, her spiritual journey began at a very tender age. Her world thereafter revolved around integral yoga, meditation, spiritual books and healing techniques. This enlightenment has helped her realize her passion in life - to heal people on a holistic level and thus bring about health, happiness, hope and harmony amongst her fellow human beings
With more than three and a half decades into this blissful journey of healing and teaching, she has transformed as a beacon to countless people.'Energy' is her core pursuit.
Komala Lyra, Ayurveda & Chakra healer
Komala's life is dedicated to the inquiry into consciousness, love and meditation. She has been guided by intuition, passion, and adventure, living in different continents and cultures. Through this diversity of approaches, she came closer to her own essence as a human being, and the experience of the five elements as the core of all life.
Komala offers Ayurveda Mandala retreats and inspirational programs internationally, writes articles and books, and presently enjoys living~teaching at her retreat place, in the magnificent nature of central Brazil.
She is a professional member of NAMA (National Ayurveda Medical Association), in the USA, and a certified Panchakarma educator, through the Ayurveda Institute, Albuquerque, NM, USA.

Antonina Ramsey, Yoga Guru
Antonina(Certified Yoga Instructor) is the master minder behind the creation of AyurYoga concept to combine two life sciences in one.
She is a certified Yoga Instructor, Wellness Coach, Ayurvedic, Jin Shin Jyutsu and Biofeedback Practitioner, Shamanic Healer, Hypnotherapist, Entrepreneur, Eco-Fashion Designer, Linguist, and a former Microsoft Marketing Manager with an MBA.
She is passionate about what she does because she has found her calling in teaching and healing.
In her own words "What I do never tires me as I do it from my heart. I give and receive LOVE. I am happy because through my creative abilities I am able to provide inspiration and insight to others as they travel their individual paths in life." She speaks and teaches in English, Spanish, and Russian languages.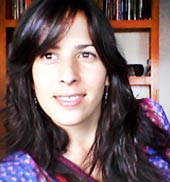 Florencia Boffi, Psicóloga Ayurvédica
Florencia es Psicóloga especializada en Medicina Ayurveda, Yoga, Psicología Comunitaria y Desarrollo Sustentable. Su perspectiva integral la llevó a estudiar y profundizar en diferentes dimensiones de la salud así como en diferentes grupos sociales. Es docente de Psicología, Ayurveda y Yoga.
Desde su primera visita a la India sintió a estas tierras como su hogar, por esta razón viaja todos los años para seguir impregnándose de la sabiduría de la India. Es docente coordinadora y traductora de grupos de estudiantes de habla hispana de Medicina Ayurveda y Yoga.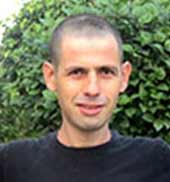 Yonatan Saar, Tantra Yoga Guru
Yonatan Saar (Tantra Yoga Instructor) has been a dedicated yoga and meditation practitioner for over 15 Years.In the last 11 years, he has been living in India, dedicating his time for intensive practice and teaching of yoga, tantra, and meditation.meditation.
Yonatan acquired his tantric training in various schools of yoga and tantra, including the Shivananda center, Iyengar centers, and the Agama yoga school.
In addition, Yonatan practiced meditation in Thai monasteries and in Indian ashrams (mainly Ama ji's ashram in Kerala and ashrams in Tamil Nadu).
In the last 10 years, he is practicing and teaching under the "Right-Hand tantra" and Kundalini master Tada Yoshi. Yonatan has been teaching yoga and tantra in India, Israel, Turkey, Europe and is the leading teacher of Ayur Tantra Yoga program.

ChandraMukta, Yoga and Mantra expert
Chandramukta Saraswati is Japanese by birth and Indian by choice. She is the perfect picture of what a complete woman has to be.
Practicing and teaching Yoga, Mantra Chanting, Indian Classical Dances and Ayurvedic Way of living is her passion as well as the profession.
One can learn from her in English, Hindi, Sanskrit as well as in Japanese. Learning from Chandramukta is very inspiring and can be a life changing experience.

Lolita Webelman, Yoga Guru
Lolita(Yoga Instructor) took her first yoga class in India in 1999. She continued her practice in her native country Mexico. She went on to train at The Iyengar Yoga Center in Mexico city.
Considering herself an eternal yoga apprentice, she has taken multiple workshops, yoga and meditation retreats in Mexico and the United States.
She has taught Hatha and Ashtanga yoga in many different establishments. She has recently been teaching in India. Her classes are playful and dynamic with a focus on correct alignment.

Sant Shree Hari, Spirituality, and Meditation Guru
Sant Shree Hari was born in the small town of Bihar in India on November 20, 1938. With the inspiration of his business partner in USA Mr. Shree N. Sharma, he get closer to spiritualism. After coming to Swargashram, Rishikesh, India, Shree Hari felt a different feeling and decided to live at Rishikesh forever.
At Rishikesh, he is imparting free yoga, Kriyas, hand posture science, mantra chanting, Pranayama (breathing exercise), meditation and the art of stress-free living, to all people who need it regardless of their age, caste or country.

Dr. Latika Verma, Diet and Lifestyle expert
Dr. Latika Verma is a professionally trained Ayurvedic doctor. Her areas of Interest are teaching basic principles of Ayurveda, Diet and Female disorders. She has a good and long experience of teaching students from around the world on these subjects.
Learning from her is a very smooth and enriching experience. As Yogic practices are slightly based on Ayurveda, she is an ideal person for teaching the importance of Anatomy in Yoga.
The added advantage of studying with Latika is that students can get the benefit of her diagnostic and examination capabilities by getting their PRAKRITI ANALYSIS done from her. She will choose the best massage therapy according to your body type.

Dr. Vivek Mohindra, Ayurveda Practitioner
Dr. Vivek Mohindra is a professional and teacher of Ayurveda & Yoga Philosophy. His teaching on Ayurveda and Indian Philosophy are easy to digest for westerners as he has a good experience of teaching westerners in India & Europe.
Dr. Vivek holds a strong knowledge of Ayurveda and is excellent in creating a natural cohesion between the individual and the world by the virtue of his postgraduate studies in Human Resource Management. By using practical aspects of Ayurvedic psychology and use of basic Ayurvedic tools/treatments & herbs in daily routine, he will make you feel better grounded within weeks after his teachings.
---
Disclaimer: Our teacher are globally active hence some time there may be a chance of teacher replacement due to various reasons.